International Women's Day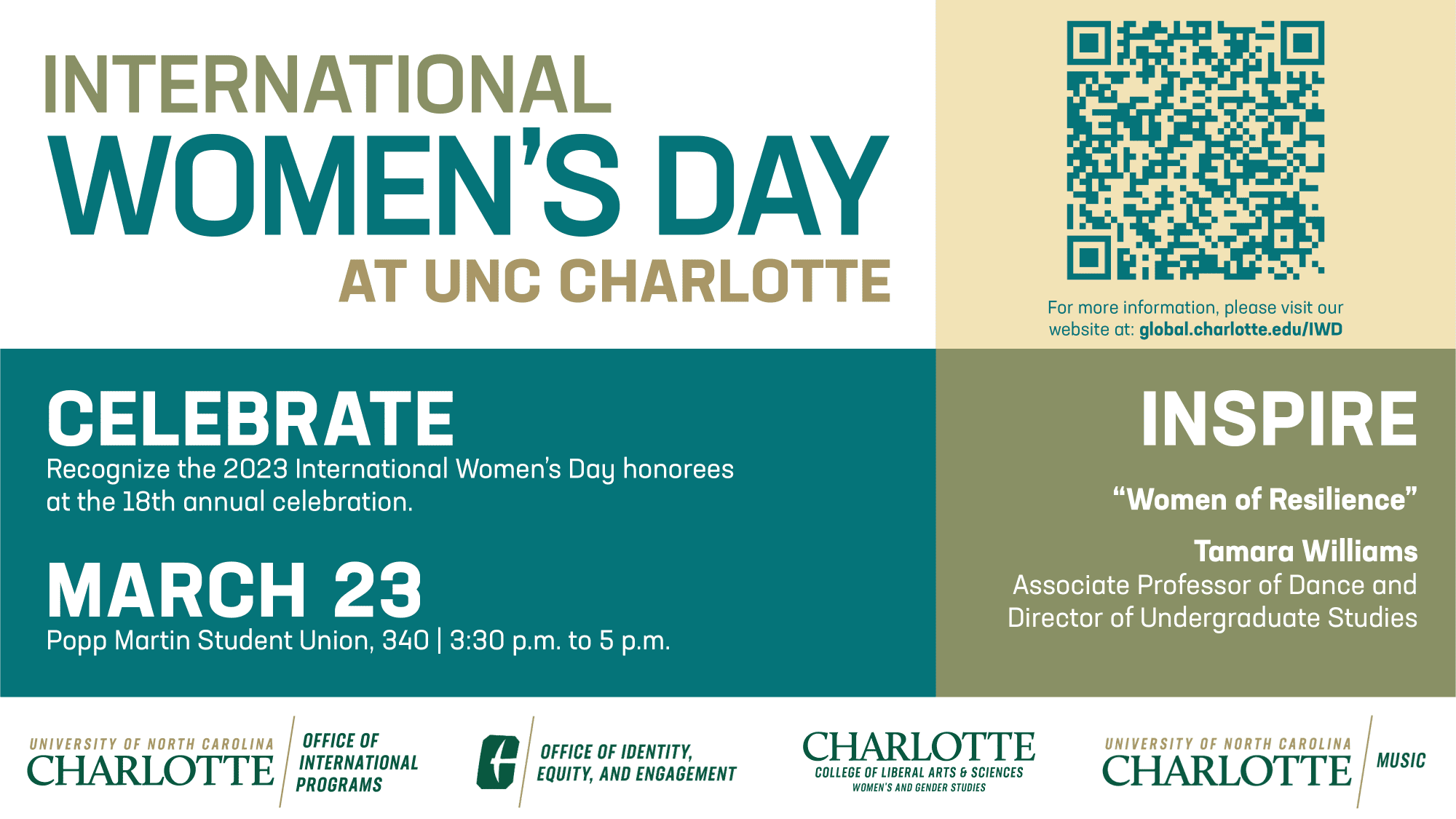 WOMEN'S HISTORY MONTH AND INTERNATIONAL WOMEN'S DAY ON-CAMPUS
Each March, the Office of International Programs encourages members of the UNC Charlotte campus community to celebrate International Women's Day (IWD), which is deliberately set to align with Women's History Month (WHM). WHM commemorates the vital place of women in American history and has evolved in the U.S. from a week-long to a month-long recognition of women's contributions to history, culture, social change, the arts, and more. Since 1995, every U.S. President has declared March as WHM, which grew in part out of the suffrage and labor movements of the early 1900s.
The Office of International Programs is pleased to highlight the creative force of women, and The Charlotteans, UNC Charlotte's Women's Chorus, under the direction of Ginger Wyrick, have become an integral part of our annual IWD celebration. The Charlotteans perform an array of music from Renaissance through contemporary composers, and each year they thoughtfully curate songs to reinforce the IWD theme and honor us with multiple performances as part of our ceremony.

In honor of International Women's Day
Each year, the Office of International Programs cordially invites members of the UNC Charlotte campus community to celebrate International Women's Day (IWD) on a date in late March.
International Women's Day is a global day celebrating the social, economic, cultural and political achievements of women while also making a call to action for accelerating gender balance. Gender balance is defined as "participation of an approximately equal number of women and men within an activity or organization, including, for example, representation in committees or in decision-making structures." Gloria Steinem, world-renowned feminist, journalist, and activist once explained "the story of women's struggle for equality belongs to no single feminist nor to any one organization but to the collective efforts of all who care about human rights." Collective action and shared responsibility for driving a gender-balanced world is key.
The first International Women's Day occurred in 1911, supported by over one million people. Today, IWD belongs to all groups collectively everywhere. IWD is not country, group or organization specific.
The 2023 UNC Charlotte International Women's Day in person celebration will take place on Thursday, March 23, 2023 from 3:30 p.m. to 5 p.m.
The IWD celebration will recognize individuals involved in international and/or gender balance issues nominated by their peers.
You are invited to nominate someone who has made an impact on the lives of women locally or globally to be recognized and celebrated on this special day.
REGISTRATION
Please submit the registration form for the International Women's Day Celebration on Wednesday, March 23, 2023 in the Popp Martin Student Union at 3:30 p.m. to 5 p.m.
Nomination Eligibility and Criteria
​Eligibility
Any UNC Charlotte student, staff, faculty member or alumna may be nominated or self-nominate

Nominees may be a citizen of any country

Nominees must demonstrate an interest in gender equity through their studies, work, activism, etc. while also working in or advocating for international collaboration and understanding.

Nominees should not have been previously recognized at International Women's Day at UNC Charlotte within the past 3 years (List of previous recipients is on the OIP website.) After 3 years, a previous recipient may be nominated for a different contribution (view listing of previously nominated women)
Criteria
Contribution to gender balance. Please explain how the studies, work, or action relates to gender balance.

Contribution to international understanding and collaboration. Please explain how the studies, work, or action relates to advocating for international understanding and collaboration.

Demonstrated impact of contributions to gender balance in the international context (or in ways that may be applicable in international contexts).

Please provide evidence of impact

. (This may include, but is not limited to: class presentations, number of students/participants, hours volunteered, qualitative feedback on learning, teaching, or activity.)
The purpose of this celebration and these nominations is to acknowledge that the UNC Charlotte community is filled with women who embody the richness of internationalism and we would like to recognize these individuals for their contributions to UNC Charlotte and the world.
No accomplishment is too small, no experience insignificant.
Please take the time to nominate those whose every day actions deserve distinction.
The 2023 International Women's Day Nomination Form will close on Febuary 22, 2023. Please join us on Wednesday, March 23 to celebrate and recognize women and their accomplishments.
Learn more about International Women's Day.